MONKEY SURFING SURF SCHOOL IN NUSA LEMBONGAN
COME TO SURF LEMBONGAN WITH US
Nusa Lembongan is THE dream island for surfers of all levels.
If you are a complete beginner, all the team at Monkey Surf School Bali be pleased to train you to become able to surf by your own.
Intermediate surfer, come to Monkey Surf School to improve your skills and enjoy the waves.
We also offer a wide range of high quality surfboards and stand-up paddle for rental. More than 40 surfboards to choose from !
SCHEDULE
We depend on the tide and ocean conditions of Nusa Lembongan to schedule the surf lessons so we only know the starting time of the class 3 days in advance. Please book at least one day before to ensure we have room (high season at least 2-3 days ahead).
A DIFFERENT APPROACH
Monkey Surf School Bali teaching focus is the quality, not the quantity and safety first. Groups in water are made of 3 students max for 1 instructor.
Our experienced surf instructors are surf life-saving and ISA certified and our classes follow the ISA Standards.
This different approach of teaching have shown great results over the 5 years of surf school existence.
---
Don't forget : surf is about FUN and love of the Ocean ! 
WHAT'S IN THE SURF LESSONS
– 1 instructor for 3 students maximum (Private lessons possible on request) . Your instructor stays with you in the water, brings you to the surf area, gives you great tips to improve and ensure your safety.
– All included : soft or hard surfboards, rashguard, reef boots, boat transfer to surf area (helmets available)
– Total duration is up to 2.5 hours
The venue of the lesson is chosen carefully to meet the international surf school safety standards and the experience of the students.
We have the option of 4 different surfbreaks to ensure less crowd.
Lembongan surf spots : Lacerations, Razors, No Man's or Tamarind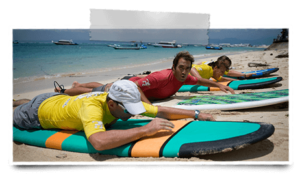 600.000 Rp
BEGINNER SURF LESSON
INTRODUCTION TO SURFING –
1 SURFLESSON
Learn how to catch a wave and stand on the surfboard
BEGINNER FULL PROGRAM –
3 SURFLESSONS PACKAGE
Get all the basics about surfing to become able to go without an instructor
---
NO REQUIREMENTS : COMPLETE BEGINNERS ARE WELCOME
---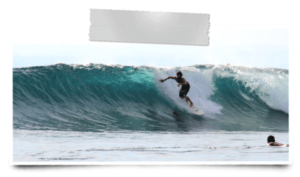 600.000 Rp
INTERMEDIATE SURF LESSON
INTRODUCTION TO THE REEF BREAK –
1 SURFLESSON
You have never surfed a reefbreak ? Understand how it works and enjoy your first Lembongan waves
INTERMEDIATE FULL PROGRAM –
3 SURFLESSONS PACKAGE
Dig to the core of your flaws and greatly improve your skills
---
REQUIRED : STANDING ON THE BOARD AND CATCHING WAVES ON YOUR OWN
---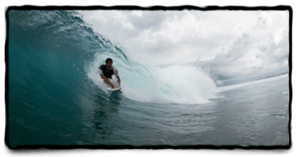 350.000 Rp
ADVANCED SURFERS
SURFGUIDING
A local experienced surfer will guide you to the peak and ensure your safety.
SURFBOARD + BOAT COMBO
Once you have completed your surf lessons program keep practicing with us.
---
REQUIRED : COMPLETING AT LEAST THE BEGINNER FULL PROGRAM OR 1 INTERMEDIATE SURF LESSON OR SOLID EXPERIENCE
---
3 SURF LESSONS PACKAGE FOR 1.600.000 Rp
BOOK HERE
+ 1 Free yummy smoothie at Pisang-Pisang Restaurant
YOU DON'T KNOW IF YOU ARE BEGINNER/INTERMEDIATE AND WHAT KIND OF LESSON WOULD BE GOOD FOR YOU ?
No worries, contact us or stop at the surf school and we will ask you a few questions to help you select the most suitable lesson for yourself.
All our surf lessons in Lembongan include the following
30 min practice or theory for a better understanding
The beginner surf lesson will start with 30 min practice on the beach to learn the basics of surfing (position on the surfboard, how to stand up,...).
The students doing the intermediate surf lesson will have instead 30 min of theory to explain how the waves in Lembongan are working.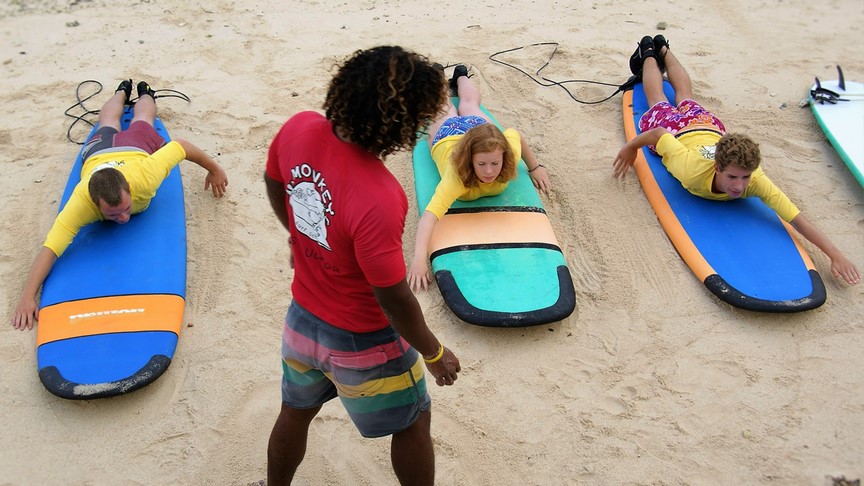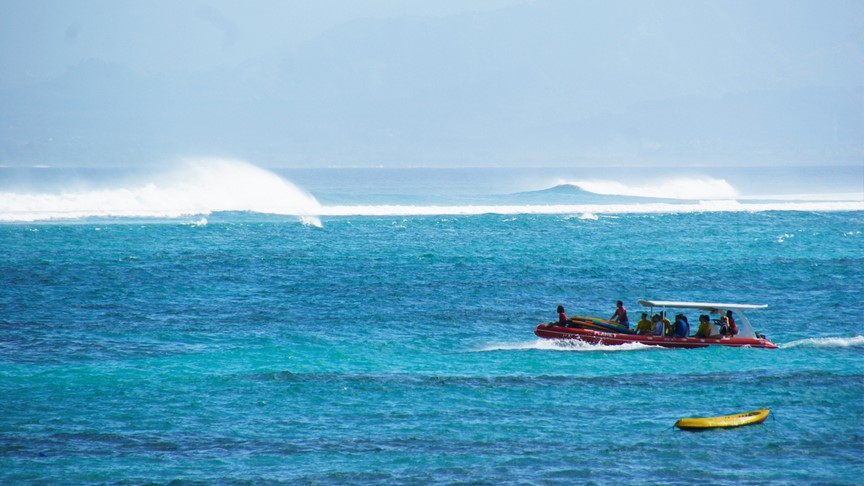 Boat transport to the surf area
Most of the surfbreaks are 15 min paddling distance from the shore, so we include the boat transport to save your arms !
Depending on the swell size and the students experience we will choose the most appropriate surf break.
Finally comes the time to get in the water !
Your instructor stays in the water with you to position you properly in the waves and help if necessary.
The small groups of 3 students max per instructor allows us more time to spend with our students to give feedback and focus on each person's wave .
Skills learnt will depend on the experience of the students of course.
SNORKELING TRIP WITH THE MANTA RAYS
Another activity not to miss during your stay in Nusa Lembongan
Easy booking by email. Made reservation late day before, got fast responses. Instructor was super nice with good english. perfect setup for beginners. My wife stood up and surfed several times even though it was her first time.
Dewa, Planet and Cris are a fantastic bunch of guys. They teach you all the essentials of surfing and how to surf a reef break, coupled with their patience, good spirits and expertise it made for an excellent experience. They are right on the beach in front of Lacerations and you will definitely come away with riding some wave. I learned a great deal from them. Check them out and see for yourself!!
I booked the 5 day premium package. Great value for money. My holiday was well organised. Pickup/ drop off to my hotel in Bali. Boat trip. Accommodation at Rama Garden. 5 surf days/ 5 yoga lessons. Breakfast/ Lunch included. I received 5 lessons with experienced instructors who want to see you do well and exceed. Planet has the patience of a Saint! Chris organised everything terrifically and answered all my questions regardless of how obscure they were. I would recommend and will be back to see the guys!
SURFBOARD RENTAL
We have it all ! The widest choice on the island ! More than 40 surfboards to choose from.
LONGBOARD : nose riding single fin, performance 2+1
MINI-MAL : classic shapes and performance
OLD-SCHOOL : single fins shortboards and twin fish
FUNBOARD : big shortboards for the intermediate surfer
SHORTBOARD : performance shapes and brands (chilli, spider, al merrick,…) with great fins
GUN : for the big days
BODYBOARD AND FINS
STAND-UP PADDLE
INTRODUCTION TO SUP : We will introduce you to SUP with cruising around the island and have fun catching small waves. (on request)
RENTAL